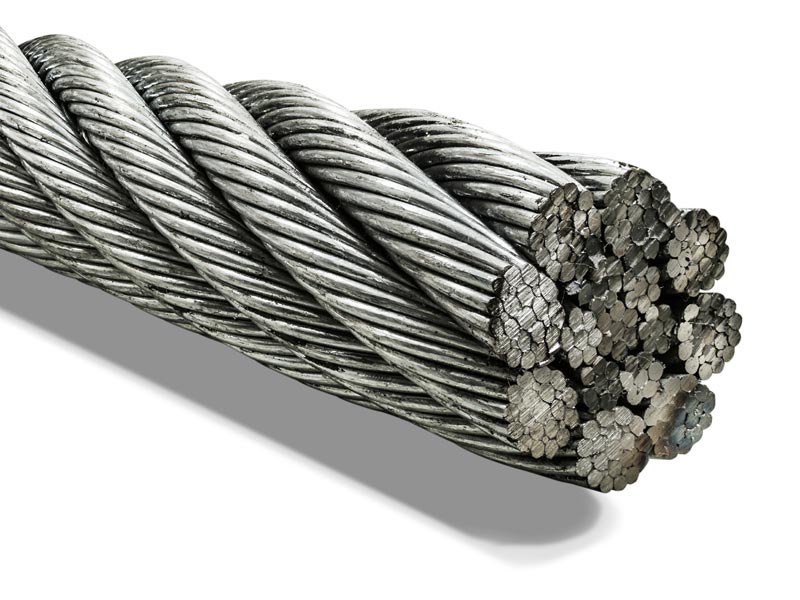 Durability Combined with Versatility
Wire rope consists of a strong core member with a number of multi-wired strands surrounding it. The core is meant to offer unrelenting support and maintain the position of the outer strands throughout the lifting job. Typically, there are six strands that are laid around the core, which are comprised of somewhere between three and 91 wires. Throughout performance, the wires, strands, and core work continuously to interact with each other, providing ideal cooperation that keeps the wire rope functioning optimally.

We provide many different wire rope assemblies that can help with gaining more support when it comes to lifting and recovering vehicles along with super swagged winch lines for greater resistance to abrasion and crushing. We also have the right kind of accessories to increase the strength of the wire rope along with cable tensioners and guides that are designed to cut down on the slack. In addition to our B/A brand of snatch blocks, we also carry blocks made from high-quality and trusted manufacturers, including Skookum and Yoke. We also have high-quality synthetic super slings that can be used for jobs that require much more flexibility and a much softer grip, such as when you don't want to damage the aluminum rims of the vehicle or need to fit into a very tight spot. The synthetic winch lines are engineered to be extremely lightweight and extra tough with low stretch and no razor edges.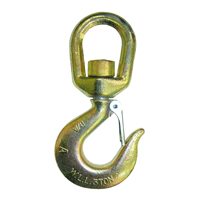 Wire Rope Accessories
We carry a wide range of different hooks that are engineered to provide uncompromising strength and holding power. These durable hooks are available in a variety of styles and sizes, including Grade 80 self-locking swivel hooks and swivel hoist hooks with latches. They are strong enough to carry loads up to 11 tons, offering high performance for the jobs that require optimized strength. We also have a handy flat tensioner that is engineered to keep constant pressure on the winch drum.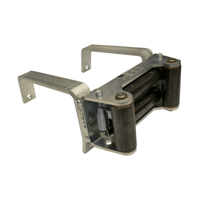 Cable Tensioners & Guides
The cable tensioners and guides are effectively designed to feature a field-proven spring-loaded design that provides constant tension on the winch cable. This is to improve the winding of the cable on the winch drum. They are engineered from high-quality materials to give them the durability to withstand the constant demands of the job. These tensioners are available in a variety of sizes, including 6-1/2", 9", and 11" to be used with 1/4" – 1/2" sized wire ropes as well as 3/8" – 3/4" sized wire ropes. There is also a tensioner with an attached bracket that is specially designed to bolt onto Jerr-Dan tow trucks. We also carry a handy replacement latch kit to make any quick repairs that need to be done while out on the road.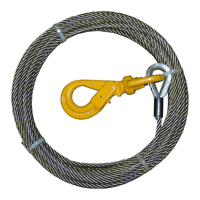 Wire Rope Assemblies
Our wire rope assemblies are engineered to provide you with an increase in holding strength. They feature a core that is made from natural or synthetic polypropylene fibers for greater elasticity with a 6X25 Extra Improved Plow Steel Construction for extra resistance to abrasion and wear or a 6X26 Extra Improved Plow Steel Construction for more strength and better resistance to drum crushing. We also have wire ropes that have a steel core for use when wire ropes with fiber cores may not provide adequate support or when the operating environment has temperatures that exceed 180-degrees F....

We also have high-quality super swagged winch lines that are compact designed to allow for up to 26-percent greater strength than standard winch lines of the same diameter. They are much more durable because the swagging process causes the outer wires to have a larger surface area, which is designed to provide better resistance to kinking and abrasion. They are available in 3/8" by 56', 75', 100', and 150' sizes as well as 7/16" by 50', 75', and 100' sizes. Their working load limits have a 3.55:1 Design Factor as per ASME/ASTM B30.5, formerly SAEJ959.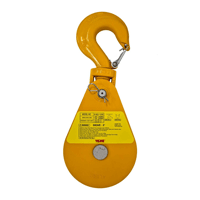 Snatch Blocks
Snatch Blocks are handy tools that make lifting or pulling a vehicle a lot easier without needing to use a lot of force. Functioning similarly like a simple pulley, a snatch block works like a strengthening mechanism as it helps give your wire ropes or cables greater strength needed to maintain a strong grip on the vehicle or heavy-duty object. In addition to our B/A brand of snatch blocks, we also carry those manufactured from trusted sources, including Skookum and Yoke. They are available in a variety of different sizes to fit different sized ropes. Most of them feature bronze bushings with grease fittings and have side plates that can be easily opened for inserting the wire rope.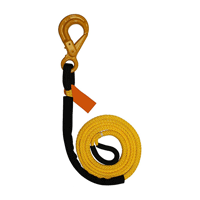 Synthetic Winch Lines
There are many benefits to using our high-quality synthetic winch lines for your recovery jobs. It is an extremely high strength, super tough, flexible, and abrasion resistant alternative that is safer to handle with no razor edges, low recoil, and no shrapnel. The winch lines are 1/7th the weight of steel cable, making them much easier to maneuver and handle. Should they break, the energy released is much less than that of a steel cable, and the lighter weight helps reduce the chances of injury further. The smoother surface of the winch line has no burrs, which can reduce the chance of cuts and injuries during usage. We have our winch lines available in a variety of sizes, including 3/8" by 50', 75', and 100' sizes and 7/16" by 100' sizes with either self-locking hooks or hoist hooks. They can easily handle working load limits between 4,100 lbs. and 5,200 lbs.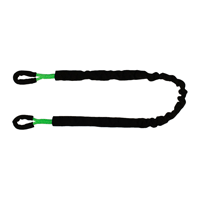 Synthetic Super Slings
Our synthetic super slings are engineered to provide you with superior strength and versatility when it comes to lifting and recovery jobs. They are designed to offer a much more reliable grip that can easily connect to anchoring points along the vehicle as well as to solid holding points, such as a tree trunk. Each end of the sling features an eye that offers a simple yet effective means of connecting the sling to the rest of the recovery equipment. Each of our high-quality slings feature a full length floating (not sewn) protective sleeve. This provides more than adequate protection against abrasive damage that can occur from the constant friction between the sling and the vehicle or holding point. The sleeve also allows you to make quick safety inspections of the rope underneath. The super slings come in both eye and eye styles and endless loop styles. Our endless super slings come in 3/8" by 4', 6', and 8' sizes, in 1/2" by 6' and 8' sizes, in 5/8" by 8' and 10' sizes, and in 3/4" by 8' and 10' sizes. The eye and eye super slings come in 1/2" by 6' and 8' sizes, in 5/8" by 8' sizes, and in 3/4" by 8' and 10' sizes.