Sub Categories
Please note that Grade 120 Chains are approved for overhead lifting.
Strongest Chain in the Industry
Because of how the need to use such a strong and heavy-duty chain is rare, we carry only a few chain assemblies made from our high-quality Grade 120 chain. The 3/8" by 10' and 20' as well as the 1/2" by 10' Cradle Grab Hook Chains are engineered to provide the strongest support that you could ask for when it comes to ensuring that your load remains effectively tied down with optimal security.

Our chains are engineered to meet and exceed Department of Transportation (DOT) specifications, Occupational Safety and Health Administration (OSHA) specifications, American Society for Testing and Materials International (ASTM) specifications, and National Association of Chain Manufacturers (NACM) specifications.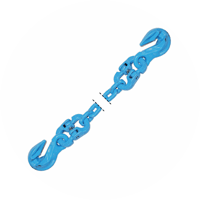 Chain Assemblies
The Grade 120 Chain Assemblies are engineered to provide you with optimized holding power and strength in order to gain complete control over the toughest jobs in the industry. They are suitable for securement applications along with other jobs, such as lifting and hoisting. The Cradle Grab Hook Chains are manufactured from these high-quality and highly durable square links for a much sturdier grip that is able to endure heavy-duty demands. They are equipped with strong end fittings that offer a hold that is superior in strength and reliability.