Sub Categories
Please note that Grade 100 Chains are approved for overhead lifting.
Feel the Strength of the Grade 100 Chains
We have chain assemblies engineered from our high-quality original gray protective coated special alloy steel chain or our highly visible bright yellow powder coated alloy steel Hi-Viz chain. These chain assemblies come in a variety of sizes for a variety of applications. The Oblong and Foundry Hook Chains feature a means of connecting the chain to a sling and to hook onto trunnions and handles on moulds or castings. We also have strong Sea Container Loading Bridles that give you the strength to haul shipping containers for loading. This is all available in addition to our Cradle Grab Hook Chains that make excellent tie-down assemblies for vehicle and load securement jobs.

In order to handle the strength of the chain, you need equally strong end fittings, which is exactly what we have available for you. From solid Oblong Master Links to strong Hammerhead T-J Combo Hooks to superior Twist Lock Cradle Grab Hooks, we have the right types of end fittings that are engineered to make the job a lot easier on your end. Built with security in mind, these hooks and end fittings have the strength to handle the tougher demands, all while maintaining their grip on the load.

Our chains are engineered to meet and exceed Department of Transportation (DOT) specifications, Occupational Safety and Health Administration (OSHA) specifications, American Society for Testing and Materials International (ASTM) specifications, and National Association of Chain Manufacturers (NACM) specifications.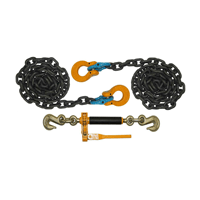 Chain Assemblies
Our Grade 100 Chain Assemblies are engineered to provide you with optimized strength and superior resistance against abrasion and crushing. We offer chain assemblies engineered from our original special alloy steel gray protective coated chain or from our highly visible bright yellow powder coated Hi-Viz chain. The Hi-Viz chain offers improved safety and weather resistance, and the round link chain is made to be both strong and lightweight. The increase in visibility offers an increase in awareness, especially in other drivers out on the road. Both options are engineered to provide you with unchallenged holding strength.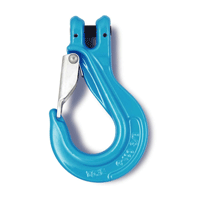 Hooks & Fittings
The Grade 100 hooks and end fittings that we have available are engineered to withstand the constant challenges of the job all while keeping their grip on the vehicle or load. Offering superior holding power, they provide you with unrelenting support that complements the overall strength of the rest of the chain assembly. Our patented Twist Lock Grab Hooks come in both cradle and non-cradle options in a variety of sizes, including 3/8", 1/2", and 5/8". These hooks feature one of the most secure and easiest to use latches on the market. There is also the Hammerhead T-J Combo Hook that is ideal for vehicle securement as well as the Oblong Master Link for increasing the functionality of the chain sling. Additionally, we also have the Shortening Hooks, which allow you to make quick and easy adjustments to the length of a chain sling without sacrificing the working load limit.