B/A Products Co. is proud to have helped set the standards across the automotive industry and is proud to continue to stand by our products.
Setting the Tie-Down Standards Since 1980
Each of these straps is designed to keep the vehicle fully immobilized throughout transit. They are equipped with high-quality and durable hardware to help support the rest of the tie-down assembly. This includes double finger hooks for easier access into those hard-to-reach anchoring points, forged swivel J Hooks for a stronger grip, and E-Track fittings for trailers that are outfitted with E-Tracks. We also have our versatile cluster hook that features a Mini J, R, & T Hook for easier securement when handling different types of vehicles. A majority of these straps are tightened down with the help of a solid and durable ratchet buckle. This type of tensioning device allows you to remain in full control throughout the tensioning process, making sure that you are able to apply to exact amount of tightness to the webbing as needed.
Most of our tie-down straps are equipped with either tire grippers or a grip strip. Tire grippers are designed with a series of patches that help prevent the strap from slipping along the surface of the vehicle's tire. Our grip strip is manufactured for strong tread grab with a low-profile design. They work with nearly any type of tire and are able to grip right onto the wheel, meshing against the design of the tire in order to prevent slippage. Both of these grip options are designed to enhance the overall grip strength of the strap, making sure that it maintains its hold on the vehicle throughout transportation.
Every one of our tie-down straps serves a purpose, whether it's to provide a solid grip on the vehicle from the wheels or through the wheels. The Axle Straps and other Tie-Down Straps provide you with up to 12' of high-quality holding strength. Our popular Ratchet Tie-Down Straps offer high-quality security, complete with strong webbing, durable end fittings, and easy-to-use ratchet buckles so that you can get that vehicle fully secured while taking minimal time and expending minimal effort. We also carry ratchet buckles and other accessories separately so that you can built the ideal tie-down assembly that fits your specific requirements.
All of our tie-down assemblies sewn by B/A Products Co. have a tag which identifies the material and the working load limit of the assembly. Our engineers have personally performed break tests on all of our products with working load limits. Since 1980, we have broken thousands of feet of webbing to ensure the safety of our customers.
Our engineers have personally performed break tests on all of our products with working load limits. Since 1980, we have broken thousands of feet of webbing to ensure the safety of our customers.
Webbing
The heart of nearly any tie-down strap that gives it the strength to do its job comes from the quality of its webbing, and B/A Products Co. produces only top-quality webbing. Made from tightly weaved polyester thread, our webbing ensures that you are constantly working with superior strength and maximum durability. Maintaining a certain level of flexibility that allows you to work with easier maneuvering, our webbing is easy to work with and wrap around the vehicle's axle, wheel, or other points of securement. Its durability gives it the wear and tear resistance needed to constantly overcome the day-to-day challenges of this heavy-duty industry. Our straps are built from this high-quality webbing so that they can bring you high-quality and high performing security for the types of jobs that need it the most.
Unless specified otherwise, all of B/A Products Co. web products are engineered from high-quality polyester. The webbing is tightly weaved with a polyester thread in order to increase the strap's resistance to abrasion and wear. Polyester web is designed to offer minimal stretch and is much denser than nylon, which means that a polyester strap can be thinner than a nylon strap but also keep the same working load limit. It also has a better resistance to moisture and acid, but please note that polyester should never be used where alkalis are present.
We offer different types of webbing that are engineered for specific jobs to meet your requirements and exceed your expectations. The B/A Polyester Classic Webbing is the Tower's workhorse strap that has been used for decades. It has become the standard for everyday use in the industry, providing you with just the right amount of strength to get through each and every day with security at the forefront. The B/A Extreme Weave features a bright green patented pattern that is designed to slow unraveling due to small cuts and abrasions extending the service life of the assembly. The B/A Heavy-Duty (B.A.H.D.) Webbing is engineered with over 50-percent more fibers that our Classic Webbing, making it thicker, heavier, and much more durable. This webbing type is available in classic yellow or fade-resistant natural colors.
Please remember that most common web failures occur when the webbing is cut and/or overloaded. When the webbing is under tension and the vibration of a vehicle going down the road is introduced, even a smooth edge can cut through the webbing, especially if it is worn down and tattered. Straps should immediately be replaced if they appear to have holes, tags, cuts, snags, excessive abrasive wear, knots, burns, damaged loops, chemical burns, illegible tags, and other damages that could affect the holding strength of the tie-down strap.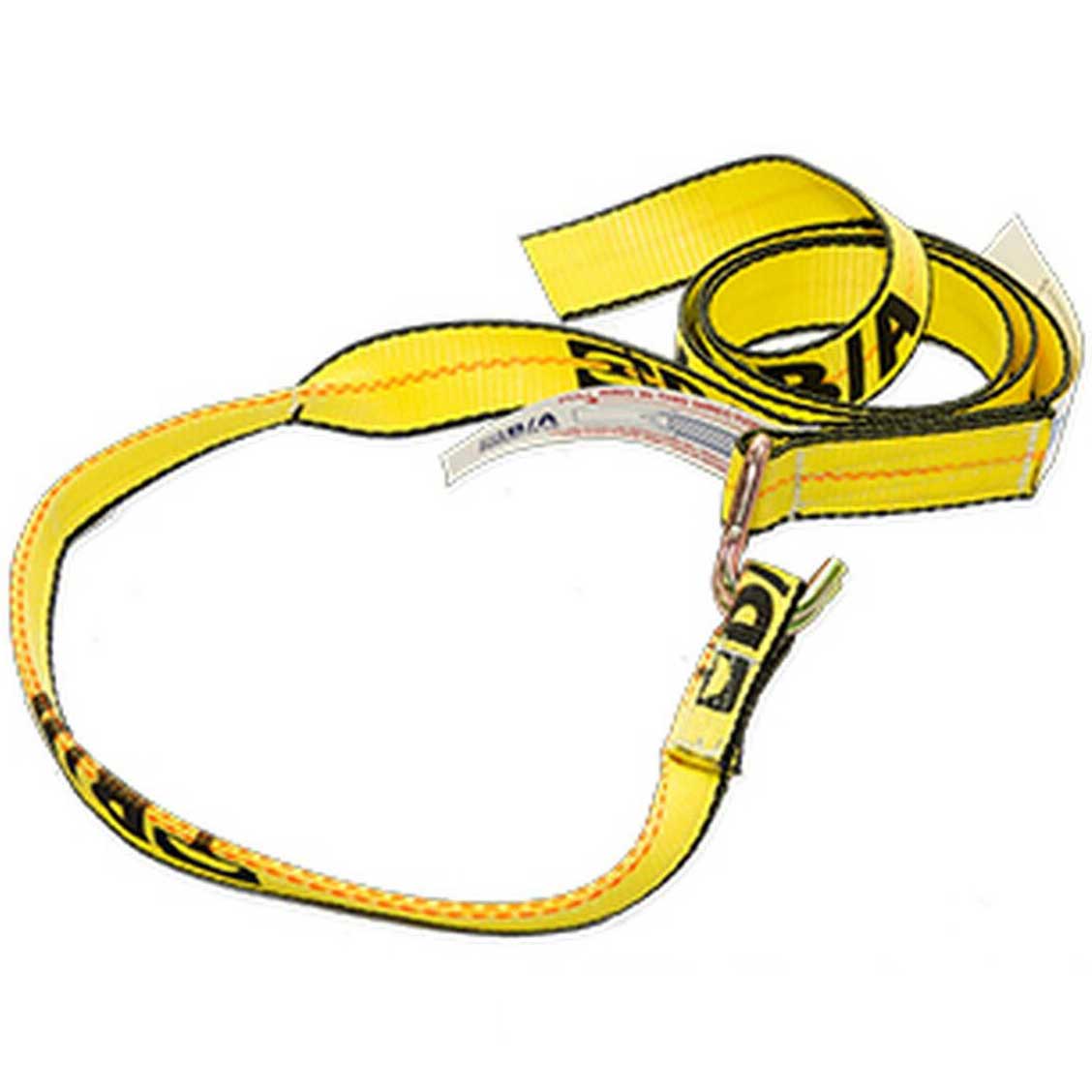 Axle & Auto Tie-Down Straps
The Single Ply Axle Straps are designed to provide you with a much more easily accessible anchoring point so that you can secure the vehicle with much more confidence. The straps are flexible enough to wrap right around the axle of the vehicle, extending out so that they can be attached to another tie-down strap. This is a much better alternative to securing the tie-down strap directly onto the vehicle's axle, which could potentially result in damage to the undercarriage. There are also reliable D-Ring Wheel Lift Straps that allow you to secure the vehicle by the tires in order to lift it up onto the trailer, providing you with an unrelenting grip that you can trust. The Through the Wheel Strap is also handy for easier securement along with our reliable Mini J, R, & T Hook Cluster Straps for better versatility.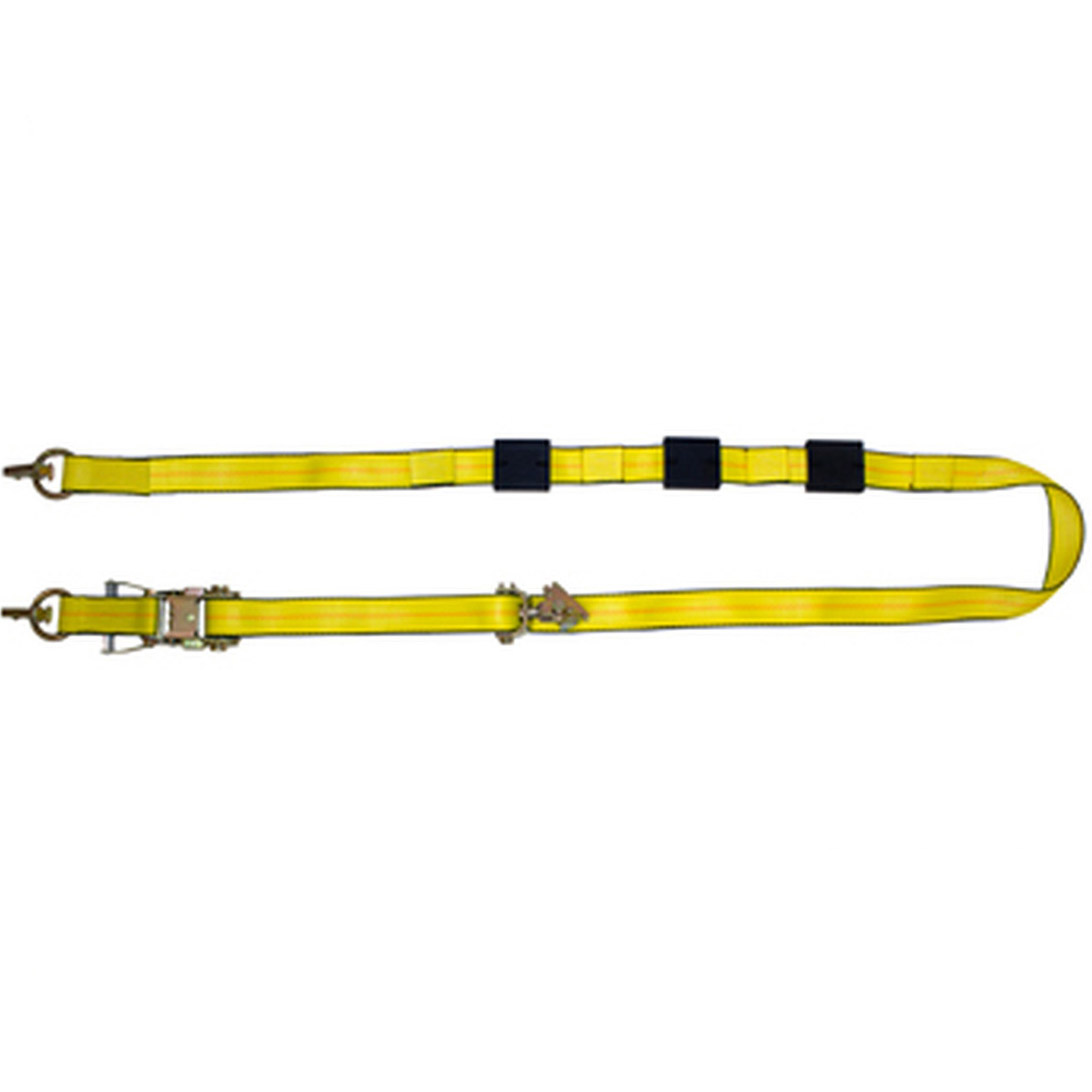 E-Track Trailer Straps
For work trailers that are equipped with logistic tracks, the E-Track Trailer Straps are the right choice for securing the vehicle. These straps are equipped with heavy-duty E-Track fittings that are designed to attach directly into the track. It only takes a few seconds to connect it, and once in place, the fitting ensures that it has a much more secure grip on the vehicle that keeps it from shifting around on the back of the trailer.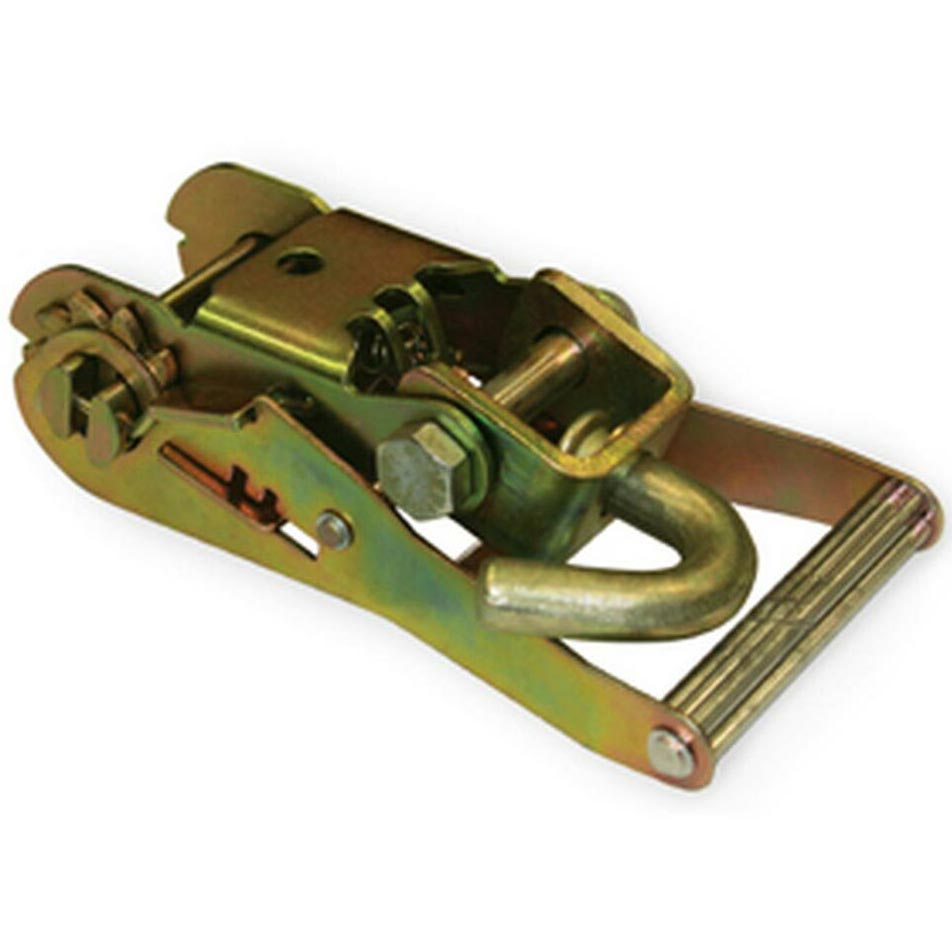 Ratchets & Accessories
Getting the strap to the optimal amount of tension is no problem for our high-quality ratchet buckles. These tensioning devices are designed to apply tension to the strap incrementally, keeping you in control throughout the entire process. You decide exactly how tight or how loose the strap needs to be in order to fully secure the vehicle. Easy to use, they come in a variety of styles. A majority of our ratchets are equipped with a hook at the end, such as the forged swivel J Hook, snap hook, or forged finger hook. This is designed to save on space, allowing you to hook the ratchet directly to the anchoring point without the need for an extra length of webbing. We also have protective sleeves available, which are designed to slide right over the length of the strap in order to provide an additional protective layer. This can help extend the service life of the strap while preventing it from quickly wearing down.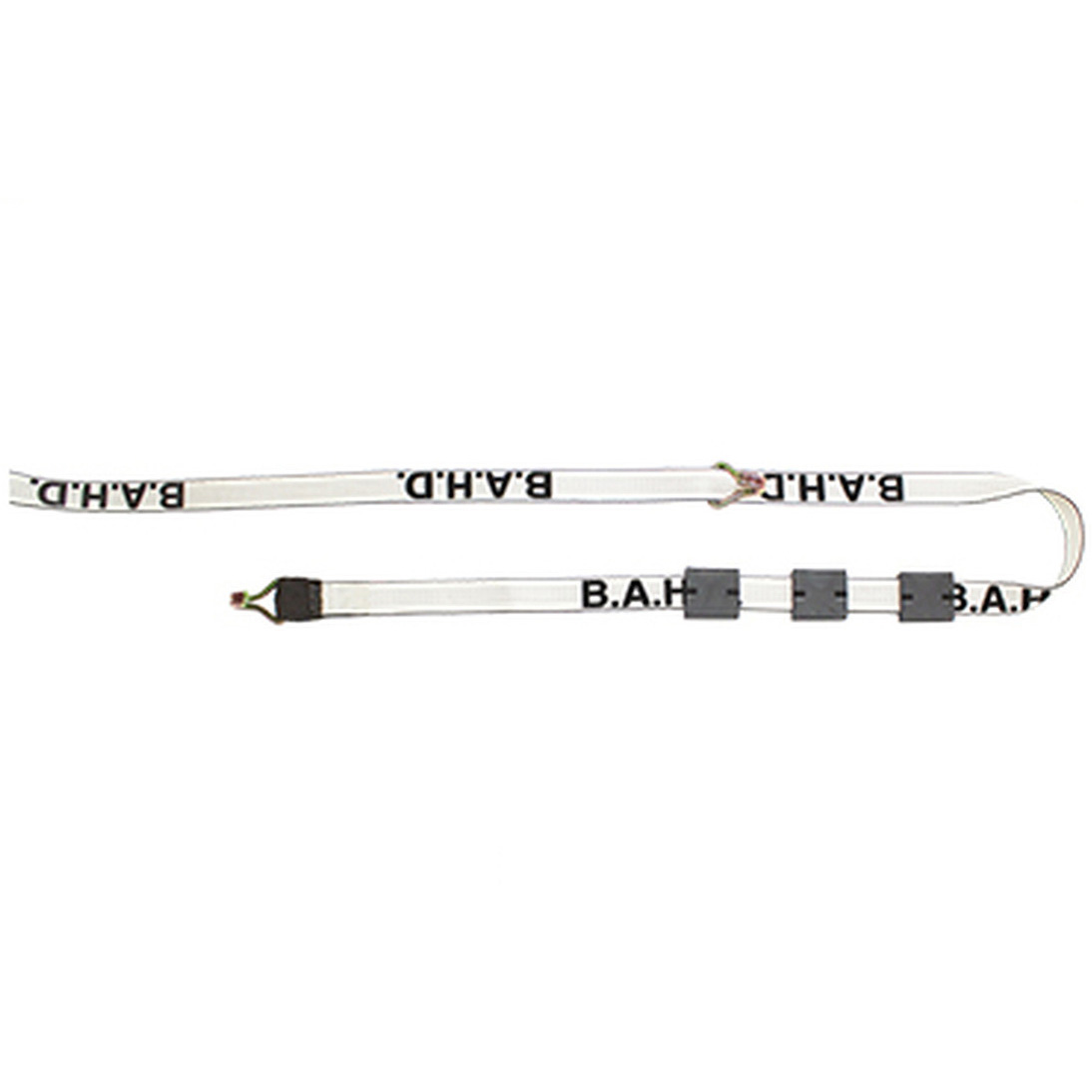 Ratchet Tie-Down Straps
Ratchet Straps are one of the most reliable tie-down assemblies used in the industry. They are engineered to provide you with equal amounts of uncompromising strength and durability while also offering an increase in versatility and security. The straps are designed to provide you with almost everything you need to make sure that the vehicle remains stabilized for transit, including high performing webbing, heavy-duty end fittings, and durable ratchet buckles. Incredibly easy to use, they keep you in control of the vehicle securement job. Most of these straps are equipped with either a grip strip or tire grippers, which are designed to prevent the webbing from sliding along the length of the tire, effectively increasing the overall security of the tie-down. The straps are also equipped with high-quality end fittings that ensure a strong and reliable hold on the anchoring points of the vehicle. These include our versatile swivel J Hooks or our heavy-duty double finger hooks. Both types are engineered to ensure better security for the job.