Creating smarter solutions and safer outcomes through quality, innovative products.
High-Quality Products for Safer Outcomes
With the spill kits that we have available, you can easily take care of liquid spills that may occur around the work area. Leaving them would prove to be very hazardous to others and to the environment. Instead, you can use our high-quality Deluxe Universal Spill Kit to help clean it up. This kit contains the right items to make the cleaning process incredibly simple and straightforward. It also contains half a gallon on Super Sorbent Liquid & Oil Sorbent, which contains a reliable anti-slip compound that not only rapidly absorbs the liquid spilled on the ground but also can create better traction on wet surfaces.
In order to keep your machines lubricated and operating at optimal ability, we offer a variety of our Lubricants. Some of these products are designed to help reduce the friction that frequently occurs within machines, which could otherwise cause them to wear down faster. We offer Slip Plate, which is formulated with a very high concentration of friction fighting graphite so that it can provide a long-lasting dry lubrication. Some of the other lubricants are designed to create a much sturdier and slip-free surface for safer working conditions. The No-Skid we have is a water-based acrylic no-skid coating that effectively reduces the risk of slipping on slippery surfaces. There is also our Chain Gang Lubricant that reduces the risk of corrosion on your heavy-duty chains and cables, protecting their overall strength and performance reliability.
For safety concerns while you are out there on the roadside, we carry plenty of products that are designed to enhance the safety of the job. These include our handy Measuring Sticks that are able to help you determine the exact measurements that are required information for a safe job, our Tarp Straps for securing tarps over the load as well as our sturdy Rubber Wheel Chock for keeping the work truck in place, preventing it from rolling away. We also have Conspicuity Tape for creating a more reflective surface on the truck. Most importantly, we also carry a 10-Person First Aid Kit, which can help you address minor injuries that are bound to happen in this rough industry.
Personal safety is especially important when getting the job done, so we made sure to stock up on certain products that are designed to make the job a bit safer for your workers. This includes heavy-duty Fire Extinguishers that are very easy to use and can be lifesavers should a fire occur on the job. This also includes Safety Flags and a Safety Triangle Kit, which are designed to raise awareness for other drivers when they are traveling near the job site. Expressing caution is a great way to keep safety as a priority while out on the job.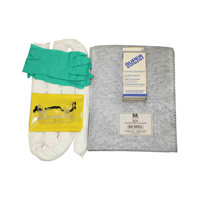 Spill Kits & Sorbents
A spilled liquid can lead to all sorts of problems, including causing a potential slipping hazard or being hazardous to the environment. We have the perfect product for these situations: the Deluxe Universal Spill Kit, which contains everything needed to clean up any spilled oils or other liquids. This includes absorbent pads and socks, protective goggles and gloves, and half a gallon of Super Sorbent Liquid & Oil Sorbent, which is an anti-slip compound that creates traction on slippery surfaces while also leaving the surfaces fully dry, absorbing all of the liquids. This is a reliably handy kit that can make cleaning up the spilled liquids so much quicker, easier, and safer than if you did it by hand.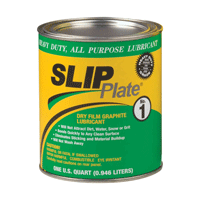 Lubricants
Keeping your machines well-oiled and lubricated can help prevent friction build up which could cause corrosion and other damages to the machines, increasing the risk of machine failure or worse. We carry a wide assortment of different lubricants that are designed not only to reduce wear and friction but also to create a no-skid surface to help gain more traction. A handy brush is also available that can help evenly spread out the lubricants for a much more equal coverage. We also have the Chain Gang lubricant, which is designed specifically for reducing friction and wear on chains and cables.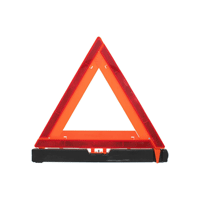 Roadside Safety
There are a variety of products available to help promote Roadside Safety. Each one serves a solid purpose and is designed to provide you with reliable performance when needed. We have our Rubber Wheel Chock to help prevent the work truck or trailer from rolling or shifting during the job. Our high-quality Tarp Ties, which are available in different sizes, are designed to keep a strong hold over the tarp, preventing it from flapping around and exposing the load underneath. Measuring Sticks are also available to keep you informed about the height of the load and other measurements that need to be made while out on the road. You can increase visibility easily with the help of our Conspicuity Tape, which adds a reflective shine to the vehicles for low-light moments. Finally, our 10-Person First Aid Kit is a must-have for any vehicle. It contains exactly what is needed to take care of minor injuries while out on the job.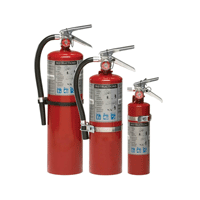 Personal Safety
We offer a number of different products that are designed to take precautionary measures when it comes to the safety of your workers. This includes our high-quality Safety Flags and Safety Triangle Kit, which are designed to help raise awareness to other drivers out on the road, letting them know that they need to express extreme caution when traveling near the load site or the work site. The flags and triangle are highly visible and are designed to catch the eye, alerting anyone nearby to watch out and be careful. We also have Fire Extinguishers available in case of any fires that might occur on the scene. They are designed to be very easy to use, and it is always a good idea to keep a few ready and within reach when you are out on the job.