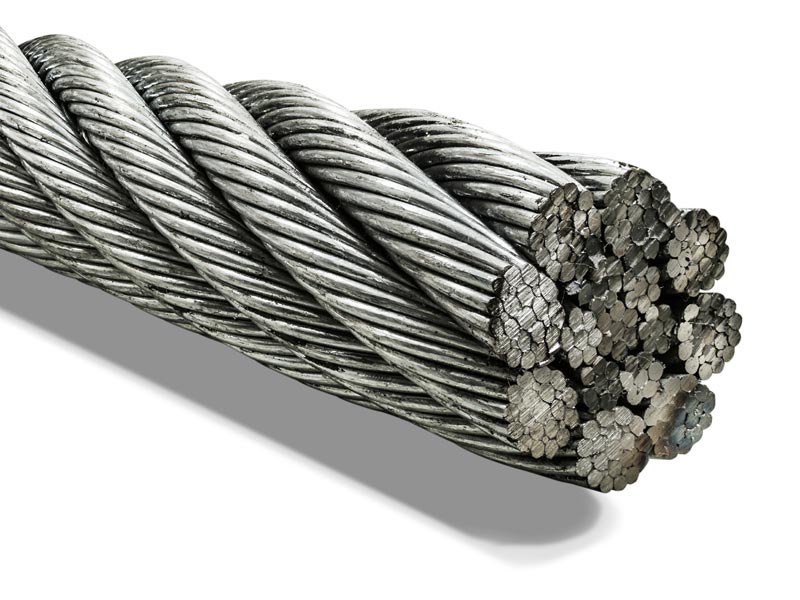 Wire Rope: Durability and Strength with Versatility
Wire Rope is made up of a strong core member along with numerous multi-wired strands that surround it. Its core is meant to provide unwavering support while maintaining the position of the outer strands during the lifting job.
Usually, there are six strands around the core, and each strand is made up of anywhere between 3-91 wires. During its performance, the strands, wires, and core all continuously work with one another to provide ideal cooperation that keeps the Wire Rope functioning at its best.
We have a wide variety of different wire rope assemblies that can assist with gaining extra support when it comes to recovering and lifting vehicles along with super swagged winch lines for improved resistance to crushing and abrasion. Our synthetic winch lines are designed to be very lightweight while still be extra tough with no razor edges and low stretch.
In addition to our reliable snatch blocks, we also carry blocks that are manufactured by trusted companies, including Yoke and Skookum. Furthermore, we also offer the right types of accessories to better the strength of the wire rope.
Wire Rope Assemblies
B/A Products Co.'s wire rope assemblies are designed to provide fire rescue fleets with a noticeable improvement in holding strength. They have a core that is manufactured from either natural or synthetic polypropylene fibers for better elasticity.
These wire rope assemblies also have a 6X25 Extra Improved Plow Steel Construction for more resistance to abrasion and wear or a 6X26 Extra Improved Plow Steel Construction for better strength and improved resistance to drum crushing.
In addition to that, there are wire ropes that have a steel core for when the operating environment has a temperature that is above 180 degrees F.
Our high-quality super-swagged winch lines are designed compact and allow for up to 26% more strength than a standard winch line of equal diameter. They are significantly more durable due to the swagging process causing the outer wires to have more surface area, which is engineered to offer better resistance to kinking and abrasion.
The super swagged winch lines are available in 3/8" by 56', 75', 100', and 150' sizes and 7/16" by 50', 75', and 100' sizes. Also, their working load limits have a 3.55:1 Design Factor as per ASME/ASTM B30.5, formerly SAEJ959.
Wire Rope Accessories
We provide a wide array of different hooks that are engineered to provide your fleet with uncompromising holding power and strength. Our durable hooks come in many styles and sizes, including our Grade 80 self-locking swivel hooks and swivel hoist hooks with latches. These hooks are strong enough to handle loads up to 11 tons, offering you high performance for the jobs that need the most strength.
Snatch Blocks
A Snatch Blocks is a useful tool that make pulling or lifting a vehicle significantly easier without applying a great deal of force. It functions in a similar fashion to a simple pulley, strengthening your cables or wire ropes when they need to keep a strong grip on a heavy-duty object, such as a vehicle.
In addition to our reliable B/A brand of snatch blocks, we also offer ones that are manufactured from trusted sources, like Skookum and Yoke. These are available in many different sizes to fit varying ropes. Most of these have bronze bushings with grease fittings and feature side plates that can be easily opened for inserting a wire rope.
Synthetic Winch Lines
There are numerous noteworthy benefits to using our high-quality synthetic winch lines for your recovery jobs. They are extremely high in strength, extra tough, and offer an abrasion resistant alternative that is much safer to handle with low recoil, no razor edges, and zero shrapnel.
Our winch lines are 1/7th the weight of steel cable, which makes them significantly easier to maneuver and handle. If they should break, the energy that is released is a lot less than that of steel cable. The lesser weight also helps in reducing there being any chances of injury. Its smoother surface has no burrs, which also can help in reducing the chance of cuts and other injuries during use.
Our winch lines are available for purchase in a variety of different sizes, which include 3/8" x 50', 75', and 100' sizes and 7/16" x 100' sizes with either hoist hooks or self-locking hooks. These winch lines can handle working load limits between 4,100 lbs. and 5,200 lbs.